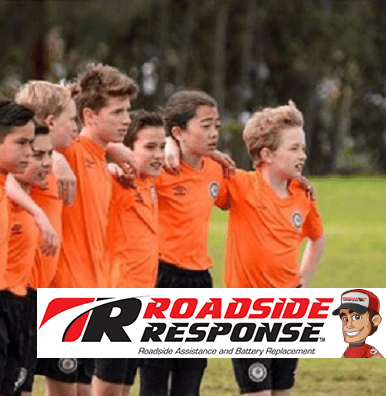 17 January 2018
Roadside Response supporting community Soccer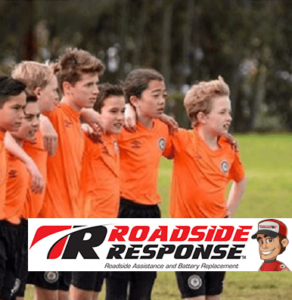 Roadside Response was proud to answer the call from a local community soccer club in Victoria.  Mornington Soccer Club based on Victoria's Mornington Peninsula, have over 400 sub-junior and junior players registered and enjoying playing soccer from Mornington, Mt Eliza, Mount Martha, Frankston, Baxter, Langwarrin, Cranbourne & Dandenong among many other towns and villages across the Mornington Peninsula. We are sponsoring several of the clubs junior teams and also purchasing several supporter tents to ensure parents and players are protected from the winter weather.
As a family owned business we understand the importance of our young generation to be involved in team sports and we we're only to happy to help support this club and its playing group.  We hope that our support, in some small way, helps to make these young soccer stars, pathway in soccer that little bit easier.
Its kinda of what we do, helping people whether its on the Roadside or on the Soccer pitch Roadside Response is here to provide assistance!
Our 'Pay as you Go' Roadside Assistance program continues to grow and we thank everyone who has called on our services for your continued support.  This is our way of giving that little bit back to the community.  If you ever need quality Roadside Assistance or Battery Replacement, call the experts at Roadside Response anywhere, anytime.  We're here to help you get back on the road, fast and hassle free.  Our service covers the Mornington Peninsula and all of greater Melbourne area so don't delay, call us today.
We look forward to sharing with you some more experiences of these upcoming Mornington soccer players throughout the 2018 season.  Good Luck!

"What a great idea, I don't drive far but to have Roadside Response available when I need it, awesome"
Rebecca T.

"Just wanted to thank you guys for your help today, Matt (service tech) was amazingly helpful and prompt"
Greg C.

"No Road Assist Membership & needed a jumpstart at the Airport, 45 minutes from start to finish, great job!"
Dale Z.

I ran out of fuel on the way to work and Response came to the rescue, 1 hour in all that traffic was just amazing. Saved my day
Huyen A.

I used your battery replacement service yesterday and want to compliment you on the quality of service supplied by your team and especially the representative who attended my request. I am very satisfied with the solution he provided.
Anthony Sharwood

I wanted to drop a quick note to say that although Garry had to fight a lot of traffic to get to me he was very professional, friendly and helpful.
Thomas Do

I just want to thank you for getting to my house so fast. The car didn't want to start this morning and I needed to get to work. The guy who changed the battery was real friendly and I was able to get to work almost on time (only 12 minutes late).
Lana Wilkinson

My car broke down (nothing to do with a battery) on my way to work – my thanks to your company for employing staff who give such wonderful attention they gave to an elderly lady
Scarlett Russell

Thanks for the great service. I didn't realise that getting a battery delivered and installed cost less than buying it in the shops. I'll be telling all my mates about Roadside Response.
Ross Mulligan