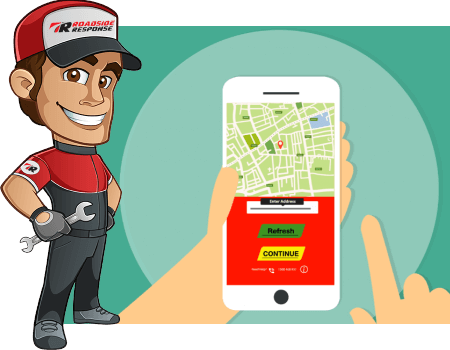 31 October 2017
Roadside Assistance Made Easy with our new WebAPP
Roadside Assistance App | Roadside Assist Made Easy
Roadside Assistance has never been easier with Roadside Response[icon name="trademark" class="" unprefixed_class=""] new Roadside Assistance App.  Dont pay to be a member on the off chance your going to break down.  Visit our website and book your roadside assistance service using our revolutionary new web App.  Unlike other assistance App's you have to plan ahead and download them in advance, but a breakdown is so unexpected.  Here at Roadside Response we dont make you wait to download an App to your phone.  Just like our service…our Roadside Assistance App is ready and waiting for you whenever and wherever you need it.  Visit our website, tap the App, enter your credit card details and we're on our way – its that simple.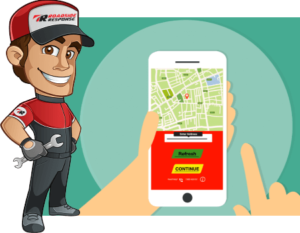 A Roadside Assistance Breakdown can be stressful | but were' here to help
Breaking down is one of the most stressful incidents that you face, because it always happens when you least expect and when you can least afford it to happen.  Late at night, when your driving alone or when your on the way to that important job interview.  Yes thats right your dream job is just one interview away.  You've prepared well, ironed your new clothes, polished your shoes, researched the new role; left home early to avoid traffic delays and then!  Oh No.  A Puncture! Your going to be late.  Dont panic, Roadside Response is here to help get you moving again.
Changing a tyre at the side of the road is not only putting yourself in potential danger, but other road users as well and its no good if you need to keep your clothes clean and tidy for that interview!  Incorrectly repairing a puncture or failing to fit a spare wheel properly, can cause major injury to yourself and others.  Do yourself a favour and leave it to the professionals to come to you and change your wheel for you.  For less than it costs to fill up your car with petrol, a Response technician can be with you, repairing the puncture or fitting the spare wheel; whilst you remain safe, dry and most importantly clean and presentable for that life changing interview.
Roadside Assistance  App
Our Roadside Assitance App has already helped thousands of Australian Motorists get back on the road, fast and hassle free.  No waiting around for your Car Club or Member hotline to answer the phone.  There are no ongoing payments for membership that you may never use and no we dont slug you for roadside joining fees like some other providers. We just provide Nationwide On Demand Roadside Assistance, when you need it most in Sydney, Melbourne, Brisbane, Perth, Adelaide, well actually we cover everywhere.
Its like a 'Pay As You Go' mobile phone, only for Roadside Assistance.  A few quick taps of our Roadside Response App and we will send one of our local Roadside Assistance providers to you; to quickly and cost effectively get you going again.  Mechanical Problem, Run out of Fuel, Lost Keys, Need a Jumpstart…no problem with our Roadside Response Web App.  You'll know the cost of your chosen service upfront so there are no surprises and you can even track their arrival via the APP.  Alternatively we have a 24/7 Response Centre ready and waiting for you to call if you prefer the comfort of speaking to one of our assistance experts.
Why pay for Roadside Assistance membership?
Industry research suggests most modern cars will only suffer a breakdown, once every four years (on average) so why continue to pay out ongoing insurance membership for something that you dont need?  It just doesnt make any sense.  Choose Roadside Response when you breakdown to come to you.  Our national network of service providers means we can send the most qualified provider to you anywhere, anytime.
As cars become more complex, repairs at the roadside are becomming less feasible.  The vast majorty of breakdowns are either battery related, fuel problems or lock out issues.  Mechanical breakdowns are rare and to protect your investment should only be repaired by qualified repairers, like your OEM Dealership or trusted mechanic.  At Roadside Response we can tow any sized vehicle to your chosen repairer for further work to be carried out.  If you need a nre battery, we can have a new battery delivered and installed within 1 hour.  Locking keys inside your car – happens more often than you think, so dont worry, a locksmith is just a 'tap' or phone call away.
What happened the last time you broke down?  Was it a hassle?  Did you spend ages waiting for your phone call to be answered?  At Roadside Response [icon name="trademark" class="" unprefixed_class=""] we hear this all the time.  Thats why we decided to provide our customers with an alternative experience.  You can call Roadside Assistance anywhere, anytime and your call will be answered within a few short rings.  If you prefer the freedom o booking your service online, then you can use our smart Response App, which will automatically locate you at the side of the road and guide you through the booking process, in three easy steps.  What could be easier than that.  Call today 1300 468931 because life keeps on moving and so should you.

My car broke down (nothing to do with a battery) on my way to work – my thanks to your company for employing staff who give such wonderful attention they gave to an elderly lady
Scarlett Russell

"I left my lights on overnight, your jump-start service is a life saver. Off to work now! thanks.."
Jade L.

"Just wanted to thank you guys for your help today, Matt (service tech) was amazingly helpful and prompt"
Greg C.

I used your battery replacement service yesterday and want to compliment you on the quality of service supplied by your team and especially the representative who attended my request. I am very satisfied with the solution he provided.
Anthony Sharwood

Thanks for the great service. I didn't realise that getting a battery delivered and installed cost less than buying it in the shops. I'll be telling all my mates about Roadside Response.
Ross Mulligan

I ran out of fuel on the way to work and Response came to the rescue, 1 hour in all that traffic was just amazing. Saved my day
Huyen A.

Keero was really helpful over the phone. He asked a couple of questions and we figured out straight away that the problem was most likely a dead battery. Phil was in the area and arrived in less than 40 minutes. Got a new battery and I was back up and running again. Thanks guys.
James Burrett

"Great job getting my keys back for me, felt like a right fool today..thanks again"
Peter G.

I just want to thank you for getting to my house so fast. The car didn't want to start this morning and I needed to get to work. The guy who changed the battery was real friendly and I was able to get to work almost on time (only 12 minutes late).
Lana Wilkinson