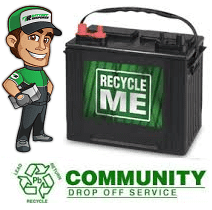 9 February 2017
Recycle your spent Lead Acid Batteries
Used lead-acid batteries are classified as hazardous waste under the Hazardous Waste Act 1989 and should not be disposed of with the regular garbage.  Each lead-acid battery contains about 2-3 litres of sulfuric acid, as well as lead, both of which are toxic. Lead is a cumulative poison in our bodies and is also harmful to the environment, particularly fish, animals and plants.
More than eighty thousand tonnes of lead-acid batteries are finished with each year. As hazardous waste, it is important these do not go to landfill.  Lead-acid batteries can be re-conditioned or recycled into new products. Recycling of these batteries uses less energy than refining primary ore and removes lead from the environment.
Were serious about making sure spent and used Lead Acid Batteries are properly recycled so every time you buy a battery from Roadside Response you can be sure your old battery is being safely recycled.

My car broke down (nothing to do with a battery) on my way to work – my thanks to your company for employing staff who give such wonderful attention they gave to an elderly lady
Scarlett Russell

"Great job getting my keys back for me, felt like a right fool today..thanks again"
Peter G.
Mooloolaba, QLD
"I left my lights on overnight, your jump-start service is a life saver. Off to work now! thanks.."
Jade L.
Fortitude Valley, Brisbane
I just want to thank you for getting to my house so fast. The car didn't want to start this morning and I needed to get to work. The guy who changed the battery was real friendly and I was able to get to work almost on time (only 12 minutes late).
Lana Wilkinson

"Thanks for the Fuel guys, i'll recommend you again"
Jerry G.
Wollongong, NSW
Roadside Response keep our rental van on the move 24/7. There nationwide coverage and pay to use platform is just perfect to help me keep my maintenance costs low & my vehicles on the go!
Paul S.
Self Move Hire
"Just wanted to thank you guys for your help today, Matt (service tech) was amazingly helpful and prompt"
Greg C.
Adelaide, SA
Thanks for the great service. I didn't realise that getting a battery delivered and installed cost less than buying it in the shops. I'll be telling all my mates about Roadside Response.
Ross Mulligan

"No Road Assist Membership & needed a jumpstart at the Airport, 45 minutes from start to finish, great job!"
Dale Z.
Melbourne, Tullamarine