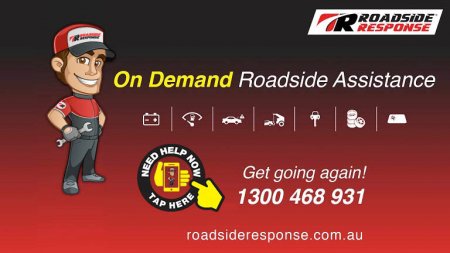 25 July 2018
How much are you paying for Roadside Assistance?
How much are you paying for Roadside Assistance?
NRMA Premium Plus cover is $359 a year, RACV Total Care $236 per year per vehicle.  This probably seems value for money of the face of it; especially when you breakdown and need their services to get you out of trouble.  The problem is that the odds are you aren't going to need them as often as you might think.
Recent industry data suggests that consumers with a vehicle under 10 years of age will require Roadside Assistance just once every four years.  I guess this makes sense, when you think about the reliability of modern vehicles and how more and more people are opting for newer keys that in years gone by.  Now lets look at your Roadside Assistance investment again.  If you don't breakdown until your 4th year of membership, you have have paid over $1,200 for that one call out.  Further more this same industry data suggests that over half of the breakdowns are caused by flat or failed batteries and you have to purchase the replacement battery on top of your member fee.  It's not included free-of-charge.
It's no wonder then, than for some motorists, a change of thinking and an eye of saving money, is driving people toward On Demand Roadside Assistance.  On Demand means you don't pay a monthly or annual membership for Roadside Assistance cover.  You simply call up and pay the service fee, if and when you need it.
Roadside Response is Australia's fast growing On Demand Roadside Assistance provider for this reason.  Nationwide Coverage for Every Australia, anywhere, anytime for anyone.
Our Roadside Response services cover all the major Roadside Assistance services
Mechanical Breakdowns
Battery Replacement
Jumpstarts
Replacement Fuel
Locksmith Services
Puncture Repairs and Flat Tyres
Towing
All available from as little as $99 a call out.  Consider the membership alternative – that represents pretty good value for money. Whats more the services can be booked directly from a roadside assistance app – so you don't need to queue on the phone waiting for service.
Roadside Response is nationwide and trusted by thousands of Australian motorists and fleet providers to keep them on the go.  Stop paying out fees just because you MIGHT need them in the future, just pay when you need help – it just make more sense doesn't it. So, how much are you paying for Roadside Assistance?

"I left my lights on overnight, your jump-start service is a life saver. Off to work now! thanks.."
Jade L.

"Just wanted to thank you guys for your help today, Matt (service tech) was amazingly helpful and prompt"
Greg C.

"Great job getting my keys back for me, felt like a right fool today..thanks again"
Peter G.

My car broke down (nothing to do with a battery) on my way to work – my thanks to your company for employing staff who give such wonderful attention they gave to an elderly lady
Scarlett Russell

"No Road Assist Membership & needed a jumpstart at the Airport, 45 minutes from start to finish, great job!"
Dale Z.

I ran out of fuel on the way to work and Response came to the rescue, 1 hour in all that traffic was just amazing. Saved my day
Huyen A.

I used your battery replacement service yesterday and want to compliment you on the quality of service supplied by your team and especially the representative who attended my request. I am very satisfied with the solution he provided.
Anthony Sharwood

Thanks for the great service. I didn't realise that getting a battery delivered and installed cost less than buying it in the shops. I'll be telling all my mates about Roadside Response.
Ross Mulligan

Keero was really helpful over the phone. He asked a couple of questions and we figured out straight away that the problem was most likely a dead battery. Phil was in the area and arrived in less than 40 minutes. Got a new battery and I was back up and running again. Thanks guys.
James Burrett