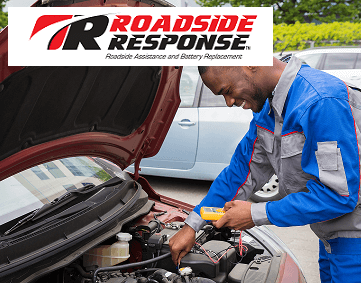 31 October 2017
Car Battery Replacement
Car Batteries Replaced | Sydney
Need your Car Battery replaced?  Most Car Batteries last approx 3-4 years so the chances are your going to need one very soon.  A faulty battery is the number 1 cause of Roadside Assistance incidents in Sydney.  Flat or Faulty Car Batteries can cause unnecessary stress and waste valuable time, so when it happens to you its important you know exactly what to do and who to call for help.  Roadside Response supply quality Premium Car Batteries with up to 3 years warranty
Roadside Response has years of experience providing Car Battery replacement to stranded Sydney Motorists.  Our Roadside Assistance technicians are on call 24/7/365 waiting for your call.  Experts in the Sydney area, we can get to you fast and without the need for you try to explain where your located.  Our expert providers can install a new car battery where ever your located, at home, at the office, shopping centre or on the school run.  We can get to you in under 1 hour and we wont be beaten on price or service.  That's the Response guarantee.
Car Batteries and motor vehicles have become more and more complex, your car battery not only starts the car but is linked to your vehicles engine management system, car audio, security systems and navigation.  Incorrectly jump-starting or fitting a battery will cause permanent damage to your car; one of life's most expensive investments.  So its critical to protect it from undue wear and tear.  A correctly installed battery can save you money, ensuring you maximise the lifespan of the car battery and making the most of its performance.
Battery Recycling
Did you know that a standard car battery is 99% recyclable?  Unfortunately many providers don't ensure your spent or old car battery is properly disposed off; so that it can enter the approved battery recycling programs.  Many batteries are left at landfill or worse.  At Roadside Response we pride ourselves in ensuring every battery we replace, is safely transported, stored and processed through Australia approved recycling program – so you can sure your battery is doing its bit for the local environment.
Green energy is vitally important to ensuring we provide clean and renewable energy sources.  A lead acid battery can be used to power many applications, such as cars, bikes, trucks, tractors and also used as a power bank for solar charging.
Is your car battery flat?
Car Batteries can go flat from time to time, in fact, that is what they are designed to do.  Your vehicle alternator controls how much charge your battery needs for maximum performance.  A faulty alternator will reduce the effectiveness of car batteries and can cause them to go flat.  Using excessive vehicle power on aftermarket accessories or leaving a light on overnight, will also seriously reduce battery life.
A common cause of a flat battery is leaving lights on in the car.  This doesn't have to be your main driving lights, it could be a glove box or interior light or leaving the boot open by mistake.  Overnight, your battery will be flat, causing you distress when you try to start your car again.
How to tell if your battery is flat?
The biggest indicator that your battery is flat is when you turn the key in the ignition.  If the ignition isn't ticking over or making any sound then its likely your battery is at fault.  You may still have use of your radio for a short time or see dashboard lights appearing when you attempt to start your car.  This is because, there is still some power left in your car battery; just not enough to start the engine.
If your battery is new and is only flat, a professional jump-start can be carried out to start your vehicle but in many cases a new battery will be required to ensure you enjoy trouble free motoring.
The best way to tell if you have a flat battery is to call Roadside Response on 1300 468931 were open 24/7/365 and carry batteries for every application.  We are Sydney's favorite car battery provider, so give us a call and we will give you the best possible value for money.

Roadside Response keep our rental van on the move 24/7. There nationwide coverage and pay to use platform is just perfect to help me keep my maintenance costs low & my vehicles on the go!
Paul S.
Self Move Hire
I just want to thank you for getting to my house so fast. The car didn't want to start this morning and I needed to get to work. The guy who changed the battery was real friendly and I was able to get to work almost on time (only 12 minutes late).
Lana Wilkinson

My car broke down (nothing to do with a battery) on my way to work – my thanks to your company for employing staff who give such wonderful attention they gave to an elderly lady
Scarlett Russell

"Great job getting my keys back for me, felt like a right fool today..thanks again"
Peter G.

"Just wanted to thank you guys for your help today, Matt (service tech) was amazingly helpful and prompt"
Greg C.

"No Road Assist Membership & needed a jumpstart at the Airport, 45 minutes from start to finish, great job!"
Dale Z.

I wanted to drop a quick note to say that although Garry had to fight a lot of traffic to get to me he was very professional, friendly and helpful.
Thomas Do

I used your battery replacement service yesterday and want to compliment you on the quality of service supplied by your team and especially the representative who attended my request. I am very satisfied with the solution he provided.
Anthony Sharwood

Thanks for the great service. I didn't realise that getting a battery delivered and installed cost less than buying it in the shops. I'll be telling all my mates about Roadside Response.
Ross Mulligan