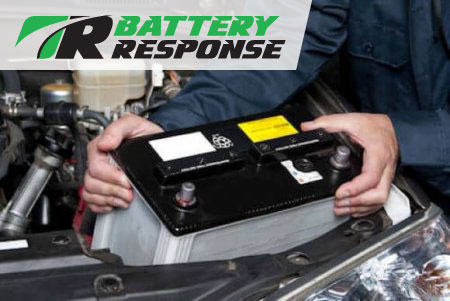 28 February 2018
Car Battery
Car Battery
Car Battery issues are the number one cause of breakdowns for Aussie Motorists.  In-fact nearly 1 in 3 breakdowns are car battery related. Modern car batteries, generally give little warning of pending failure.  The traditional signals of 'slow cranking' or 'lights dimming' on start up, are no longer reliable indicators of car battery failure.
Roadside Response is the number 1 provider of car battery and roadside assistance services.  Our vast network of car battery experts means we can be with you in a flash, in the event your car battery fails.  Flat car batteries are no issue with our jump-start, battery boost service.  24 hours, 7 days, nationwide.  Roadside Response helps thousands of Aussie Motorists with battery breakdown issues.
Why choose a Car Battery from us?
It's true, there are various companies large and small offering roadside battery replacement.  Few are Roadside Assistance and Battery Experts.  How do you know its your Car Battery that has failed?  What if its an electrical charging system or starter motor issue.  Can they provide 3 years warranty on a battery they install?  Do they provide 6 months road assist cover on every new car battery?  These are just some of the reasons, more people choose Roadside Response.
Price is also a key buying factor, but cheapest is rarely best.  Whilst we pride ourselves on ensuring our products and services are the cheapest in the industry, we also understand that ensuring you have the right technology battery for your car is paramount to ensure you get the best performance and longest life from your battery.
Start Stop Car Batteries
More and more modern cars are equipped with start|stop technology to boost fuel efficiency and to meet environmental standards.  But why is this important when choosing a car battery?
Lets start be firstly understanding what we mean by start|stop technology.  Cars fitted with start|stop technologies, cut the engine when the vehicle comes to a stop, at a junction or traffic lights for example.  It starts again, when you press the accelerator to move off.  This is what we mean by start|stop cars.  No imagine the amount of stress this puts on a car battery.  Older cars needed to start the average care battery maybe 4-5 times a day.  Now modern cars need a car battery to start it 40-50 times a day.  So its stands to reasons you need a special type of car battery for these modern cars.
Roadside Response carry the full range of Start|Stop Batteries as well as standard car batteries to suit every make and model.  Free Fitting, Free Delivery and 3 years product warranty.  Plus we offer 6 months free road assist on selected batteries to give you that added piece of mind.  That's why we lead the way in roadside car battery replacement.
Car Batteries to suit all makes and models

Roadside Response only use the very best brands of car batteries, from manufacturers such as Century, Supercharge, Neuton Power and AC Delco, by doing so we are able to offer extended warranty and piece of mind guarantees to our customers.  It means we always have the right battery to suit the OEM needs of your vehicle.  We not locked into one battery brand, which means you always get the best price and value.
We have Calcium/Calcium, Enhanced Flooded, AGM and every type in between.  But you don't need to worry about that, Roadside Response always install the right technology battery for your car.  Whatever car battery you need, we have it on-board.
What if I just want a Jump-start?
Many providers wont perform a jump-start for you because they simply want to sell batteries.  We are a roadside assistance and battery replacement specialist, therefore we perform whatever is required to get your vehicle back on the road.  Firstly, we perform an electronic battery test to understand the state of your battery, (remember you may not need a battery at all) if a jump-start is possible and that is your preferred option, a jump-start is what you get.  Our jumpstart services are available nationwide 24/7.
Please don't risk letting a passerby jumpstart your car.  We know its tempting but the potential cost to you of a incorrect jump-start can run into the thousands of dollars.  Every day we receive calls from distraught customers who have damaged there cars engine management system or have warning lights and messages appearing on the dash, as a result of an incorrectly performed jumpstart.  Leave it to the experts to jump start your car.

"Thanks for the Fuel guys, i'll recommend you again"
Jerry G.

"No Road Assist Membership & needed a jumpstart at the Airport, 45 minutes from start to finish, great job!"
Dale Z.

I wanted to drop a quick note to say that although Garry had to fight a lot of traffic to get to me he was very professional, friendly and helpful.
Thomas Do

Keero was really helpful over the phone. He asked a couple of questions and we figured out straight away that the problem was most likely a dead battery. Phil was in the area and arrived in less than 40 minutes. Got a new battery and I was back up and running again. Thanks guys.
James Burrett

"Great job getting my keys back for me, felt like a right fool today..thanks again"
Peter G.

Roadside Response keep our rental van on the move 24/7. There nationwide coverage and pay to use platform is just perfect to help me keep my maintenance costs low & my vehicles on the go!
Paul S.
Self Move Hire
I just want to thank you for getting to my house so fast. The car didn't want to start this morning and I needed to get to work. The guy who changed the battery was real friendly and I was able to get to work almost on time (only 12 minutes late).
Lana Wilkinson

"What a great idea, I don't drive far but to have Roadside Response available when I need it, awesome"
Rebecca T.

I used your battery replacement service yesterday and want to compliment you on the quality of service supplied by your team and especially the representative who attended my request. I am very satisfied with the solution he provided.
Anthony Sharwood